True Zero Backlash in Gearboxes, Gearmotors and Drive Systems
There is simply no other gearbox like Galaxie®. The award-winning patented design technology allows for previously unattainable levels of precision, smoothness and dynamics. The Galaxie® is the first zero backlash gearbox in the market and offers the perfect solution for rotary CNC axes, high precision robot axes, precision Indexing / dial tables, and direct drive alternatives.
See the design principles, product lines and application stories below. Then contact us for a personalized demonstration of this revolutionary technology.
Unprecedented Technology for Extreme Machining Precision
The innovative core of the new zero backlash Galaxie® Drive System is the virtually full surface contact during power transmission. This achieves a tooth contact surface that is six and a half times larger compared to conventional involute teeth with typical linear contact.
The superiority of the gearbox design is based on three radically new ideas:
Dynamic single teeth instead of gear wheel
Full surface contact instead of linear contact
Tooth geometry as logarithmic spiral
The Galaxie® gearbox guides a large number of individual teeth along an internal ring gear. The toothing is shaped as a logarithmic spiral, which allows the teeth to grip into the internal ring gear over a large surface.
Zero Backlash Gearboxes, Gearmotors and Drive Systems
Sector Expertise:
Zero Backlash in Aerospace Machining – Automatic Fiber Placement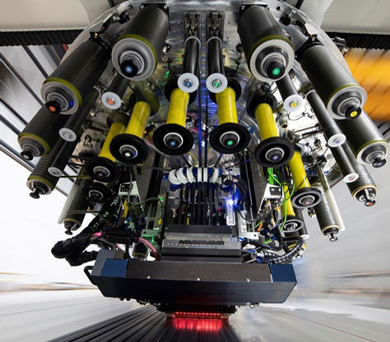 Used to produce large and complex composite parts for companies such as Boeing, Airbus, Bombardier, Embraer and NASA, AFP systems are highly technical and complex.
Challenge: Reduce steps in Automated Fiber Placement (AFP) to produce wing spars up to 33.5 meters long.
Solution: A modular AFP head weighing about 500kg is integrated with a mobile gantry structure 6 meters wide. It applies several hundred layers of epoxy resin-impregnated carbon fiber strips and sheets to the basic structures with absolute precision.
Thanks to Galaxie® dynamics, the AFP machine for the wing spars is able to rotate the robot head through ±90° with incredibly high accelerations so that the U-shaped spar structures can be made in a single operation. This is made possible through the use of the highly rigid, zero backlash gear technology that securely rotates the 500 Kg head.
Featured Product:
Galaxie® Actuator (Gearmotor)
Optimal Applications:
Aerospace Machining
Semicon Wafer Handling
CNC axes
Medical Robotics
Indexing Tables (precision)
Direct Drive Replacement
Success Story: Zero Backlash in Direct Drive Replacement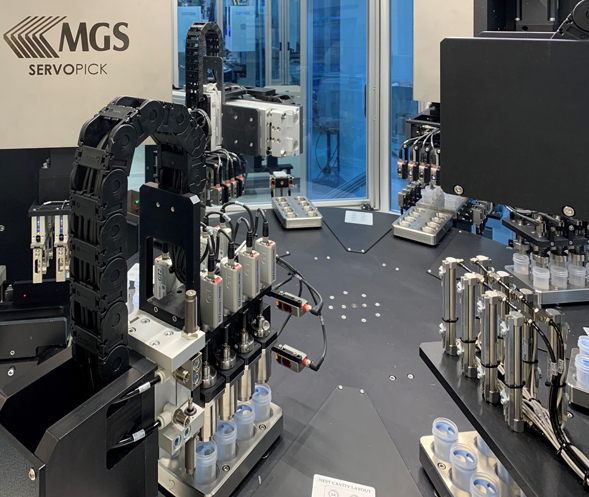 For this customized indexing table for a medical application, torsional rigidity was critical for the axis — if the gearbox was not rigid enough, the table could rotate or oscillate when decelerating to a stop, causing longer move times due to the settling time. Planetary or harmonic design gearboxes simply did not have the required stiffness.
Historically when machines required this level of rigidity a direct drive motor was the default. While this achieved the necessary rigidity, the solution was overly complex requiring additional engineered components to achieve machine safety.
Galaxie delivered high rigidity in a compact setup. The servo tuning was simplified due to the combination of zero backlash and high rigidity together with the mechanical advantage of the gearing. This allows for changing inertial loads without concern of system instability that can be a challenge in a direct drive motor solution.

All success stories start with sizing. Our software portfolio helps you choose the right drive:
Retrieve CAD data for your specific gearbox
CAD data for all types of gearboxes
Performance data and dimension sheets
Search via ordering code
Available online without logging in
Find the right gearbox online
Efficient gearbox selection in seconds
Access by specifying application or motor
Direct request for quotation
Available online without logging in
Size the entire drive train in detail
Detailed calculation of complete drive trains
Precise simulation of motion and load variables
Desktop software for complex designs