The WITTENSTEIN group possesses exceptional expertise for the mastery and further development of all technologies relevant to mechatronic drives. We combine six strong segments under one roof.
We develop, produce and sell products such as high-precision planetary gearboxes, complete electromechanical drive systems and AC servo systems and motors. Our areas of application are robotics, machine tools, medical technology and aerospace.
Our objective is to continue to surprise and impress our customers with innovative ideas. We work on this every day. All of us, together.
Six Strategic Business Divisions

High-precision servo drives and linear systems
WITTENSTEIN alpha develops, produces and sells mechanical and mechatronic servo drive systems for sectors that require maximum precision. Our products consistently raise the bar around the world.
We have divided our product portfolio into four segments in order to meet very different requirements: in the Premium and Advanced segments, we focus on technology and performance while in the Value and Basic segments, the emphasis is on cost-effective and high-demand products. Learn more

WITTENSTEIN - North America
1249 Humbracht Circle
Bartlett, IL 60103

Highly dynamic servo motors and drive electronics
WITTENSTEIN cyber motor develops, produces and sells technologically advanced servo motors and demanding drive electronics as well as complete mechatronic drive systems with maximum power density. Our expertise is in specialized motors for ultra-high vacuums, high temperatures and radioactive environments.
We collaborate closely with our customers to exchange ideas, learn from each other and discover new opportunities that help our customers stand out from the competition. Learn more

WITTENSTEIN - North America
1249 Humbracht Circle
Bartlett, IL 60103

Superior gearboxes and drive systems
WITTENSTEIN galaxie develops, produces and sells radically innovative gearboxes and drive systems based on a totally new functional design principle. With this unique expertise, we are the global leader in rotary mechatronic drive technologies.
These innovations help our customers designing machinery with vast performance parameters to secure their competitive core-advantages for the future. Our solutions enable products to be manufactured in a particularly efficient and resourceful way. Learn more

WITTENSTEIN motion control
Mechatronic and cybertronic drive systems for extreme environments
WITTENSTEIN motion control uses our own servo motors, gearboxes, electronics and software to develop, produce and sell customized mechatronic systems for especially critical environments. Our development expertise and the high level of vertical integration of the components ensure that these technologies meet our customers' requirements.
Our innovative solutions are focused on fields where success depends on performance, robustness and reliability – aerospace, defense, simulation and subsea. Real-time safety software rounds off our portfolio. Learn more

WITTENSTEIN - North America
1249 Humbracht Circle
Bartlett, IL 60103

Nanoprecision drive and measurement technology solutions
attocube develops, produces and sells drive and measurement technology for highly demanding nanotech applications. Their product range includes everything from piezo-based compact motors to innovative sensor solutions, which far exceed current measurement technology in their precision, speed and compactness and can also be used under extreme conditions.
Years of experience and expertise in both the scientific and industrial market segments have yielded an inspiring product catalog with maximum precision and user-friendliness. This far superior technology is revolutionizing existing applications and guarantees lasting competitive advantages for our customers. Learn more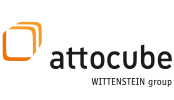 attocube systems AG
Eglfinger Weg 2
85540 Haar
+49 89 420 797-0
+49 89 420 797 20-90

Secure management of IT infrastructure in offices and production areas
baramundi provides companies and organizations worldwide with efficient, secure and cross-platform management of networked endpoints in IT and manufacturing. The Management Suite provides our customers with integrated, future-orientated unified endpoint management.
baramundi leads the way in regard to unified endpoint management in networked production environments. We develop this solution in close cooperation with the WITTENSTEIN Digitalization Center. Learn more