Accelerate Machine Design for Packaging, Processing & Converting
Machine designs for production of food, pharmaceutical products, medical textiles and personal care products require significant planning and knowledge. Food and beverage machines must account for hygiene and cleanability in processing and packaging. Pharmaceutical production demands high production quality with high throughput. Non-wovens and paper converting have to accommodate multiple motions in finite space. And critical considerations for environment, energy, precision, and safety must be balanced with speed, economy and other methods to minimize cost of ownership.

Proof of Concept: See how we combine application expertise with product performance for exceptional outcomes in Packaging, Processing and Paper Converting applications. Then contact us today to start planning your next project.
Converting Machinery:
High Speed, High Duty and High Reliability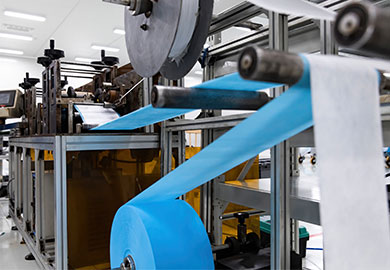 Rapid availability of configurable components combined with sizing expertise results in high repeatability.
Challenge: Non-woven converting machine builders must meet surge in demand, utilize new non-woven materials, and move quickly for competitive advantage.
Solutions: Starting the project with cymex® sizing software enables the simple dimensioning and evaluation of the complete drive train (application + transformation + motor + gearbox).
- Configurable components for quick retrofitting to existing machines.
- Specially designed gearboxes that operate at continuous, high speed duty cycles with no leakage.
Results: Rapid production time and enhanced performance. Low backlash and uniform performance of gearboxes ensures consistent, zero vibration motion, for a higher quality end product.
Featured Product:
Sizing Software for configuring complete drive
Other Performance Areas
Melt-blown Converting
Non-woven Converting
Poly and Laminate Converting
Paper Converting
Medical Mask Manufacturing
High Repeatability
UV Curing
Laser Cutting
Ultrasonic
Disposable Glove Machine
Converting Machinery
Slitter Rewinder
High Production Capacity
Sheeting & Stacking
Core Cutting Machines
Razor, Shear, Score and Hot Knife
Slitting Machines
Processing Machinery:
Dosing 6 Million Per Day with No Waste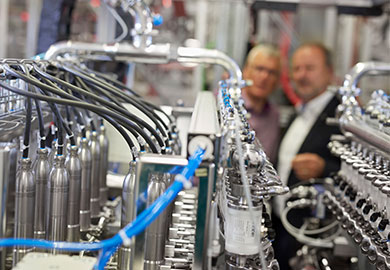 A huge benefit was online access to the dosing stations for servicing and optimization.
Challenge: Dose liquids of varying viscosity into pads precisely and efficiently.
Solution: Small servo drives (40mm diameter) with a ratio i=30.67 are installed in two dosing stations with a compact servo drives featuring IP20 protection and a ProfiNet interface. Full stainless steel was chosen to protect equipment from corrosion from product leaks and allow for external cleaning.
Results: Precision with individually scalable drives that are high performance and future proof.
Up to six million doses per day with zero waste of dispensing material
Repeatable precision ensures uniformity AND reliability
Dosing by a linear driven valve or a rotary driven screw
Featured Product:
Small Servo Drive System in Corrosion Resistant Design
Other Performance Areas:
Dosing
Conveying
Capping
Sealing
Agitators Chillers
Centrifuges Dryers & Granulators
High Pressure Homogenizers
Mixers
Spray Coating
Sifters
Packaging Machinery:
Filling and Packing 4 Bags Per Second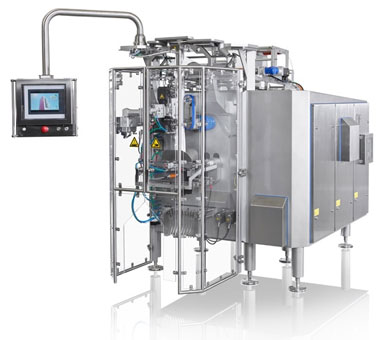 Use of a WITTENSTEIN rotary actuator allowed for filling and packaging 250 cycles per minute, producing 4 bags per second.
Challenge: Maximize speed with minimal footprint in a continuously running vertical tubular bag machine. Precision must be maintained - application welds packaging foil to form a tube, capture free-flowing product, then weld package closed to seal. Conventional motor/gearbox units are too big, too heavy and not dynamic enough to achieve desired cycle times.
Solution: Using a rotary servo actuator connected directly to the jaw closer for precision, speed and compactness. With its high dynamics and low weight, our drives make cycle times of up to 200 cycles a minute possible. In addition, the low weight allows for a reduction in drive power in the jaw stroke.
Results:
- Sealing jaws open and close 250x per minute
- Welding takes 70 milliseconds
- Entire bag process takes 250 milliseconds
- Four bags can be completely filled and packaged every second
Primary Product:
Rotary Actuator
Other Performance Areas:
Blister Packaging
Vaccine Packaging
Personal Care Packaging
Continuous Band Bag Sealing
Powder Auguer
Filling Machine
Flow Pack Wrapper
Label Applicators
Case Packers
Air Cushion & Pillow Systems
Stretch Wrap Systems
Micro Liquid Fillers
Filling & Closure Systems
All success stories start with sizing. Our software portfolio helps you choose the right drive:
Retrieve CAD data for your specific gearbox
CAD data for all types of gearboxes
Performance data and dimension sheets
Search via ordering code
Available online without logging in
Find the right gearbox online
Efficient gearbox selection in seconds
Access by specifying application or motor
Direct request for quotation
Available online without logging in
Size the entire drive train in detail
Detailed calculation of complete drive trains
Precise simulation of motion and load variables
Desktop software for complex designs