09-11-2019
Congratulations to our Latest ICATT Graduate Thomas Hein
For the past three years, Thomas has worked diligently to balance school with his training at WITTENSTEIN in North America. As part of his ICATT program participation Thomas reported to Manufacturing Manager Juergen Limbrunner at WITTENSTEIN, who mentored Thomas on the company-specific knowledge and machine tool operations used at WITTENSTEIN in North America. Over the course of three years, Thomas alternated eight weeks at WITTENSTEIN with eight weeks of classroom and lab training. At the end of this training period, Thomas took the required exams and earned excellent marks.

Thanks to the ICATT program, Thomas has now earned his Associate's Degree as well as German DIHK/AHK certification. He will continue working at WITTENSTEIN full time as a CNC machinist.

The ICATT Apprenticeship Program is focused exclusively on high-tech manufacturers and companies with complex technologies or logistics, and the only program fully benchmarked on the German Dual Education System, a time-tested program that combines company-specific knowledge, theory, and hands-on learning to train a globally competitive workforce. Learn more at icattapprenticeships.com.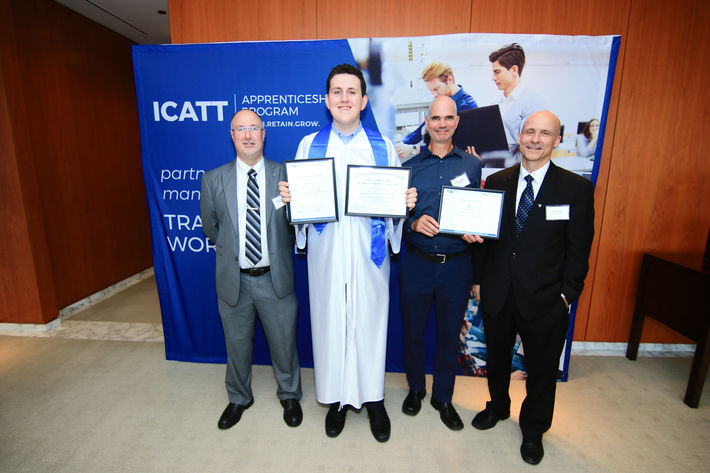 Pictured left to right: Mark Trotter – Sr. Human Resources Manager; Thomas Hein – ICATT Graduate;
Thomas Mueller – Machining Team Leader; Hans Kraus – SCM Manager North America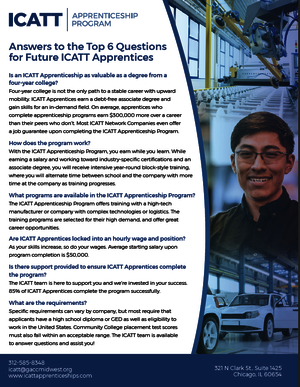 FAQ sheet for Apprentices
Learn more at icattapprenticeships.com.