10-20-2020
cynapse wins 2020 "Leadership in Engineering Achievement" Award in U.S
In selecting WITTENSTEIN for the gold medal, judges noted, "Predictive Maintenance! Problems can be identified before failure or even significant degradation can occur. Hardware can now 'speak' as to its status. Congratulations!"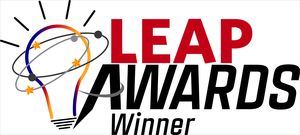 About the Leadership in Engineering Achievement Program (LEAP)

Launched in 2018 by by WTWH Media, the LEAP Awards honor outstanding products for use in industrial application design. The call for entries is promoted across four of WTWH's design engineering publications: Design World, Fluid Power World, Fastener Engineering, and EE World with a circulation of more than 100,000+ engineers.

Each year the LEAP awards recognize outstanding achievements in 12 categories:
Additive Manufacturing
Connectivity
Embedded Computing
Hydraulics
Industrial Automation
Mechanical
Motion Control
Pneumatics
Power Electronics
Software
Switches & Sensors
Test & Measurement

For each category, judges award Gold, Silver, Bronze, and Honorable Mention medals. Entries must be new products that are commercially available in the United States and have been released since January 1, 2018 and not previously entered in the LEAP Awards. This year's winners were chosen by an independent panel of 14 engineering and academic professionals.

cynapse was awarded the highest honor, the Gold Medal, in the Motion Control category, beating out some very large companies including Bosch Rexroth and Moog. The awards gain increasing prestige and recognition each year, and always highlight some of the largest players in the industry. (WITTENSTEIN INIRA was a finalist in the 2018 awards for the mechanical category.)

View a complete list of all 2020 Gold Medal winners and finalists here.