Gearing solutions
Innovation plus performance
As a company in the WITTENSTEIN Group, we are at home in all areas of application for smart, controllable drive systems. We implement all key production steps related to drive, control and regulation technology in-house. Our customers includes companies in sectors such as machine construction, robotics technology, aerospace, automotive, motor racing, etc.
We tailor the properties of the gearing to our customers' needs: torque, motor speed, running noise, displacement sensitivity and rotary transmission are all arranged according to your specifications. Thanks to maximum consistency in gearing quality, we can guarantee reliable solutions.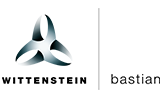 WITTENSTEIN bastian GmbH
Lise-Meitner-Straße 10
70736 Fellbach
Other products of WITTENSTEIN Group
The WITTENSTEIN Group worldwide integrates all key technologies for electromechanical drive systems. Our innovations regularly set new benchmarks. Our portfolio extends from highly precise gearings to piezo drives and integrated electronics.