Spur gears
A perfect mesh of expertise
Spur gears by WITTENSTEIN bastian are known and prized the world over.
We offer a complete range of different geometries, production processes and quality levels – as a recognized system supplier for high-speed, low-noise and high-torque applications.
We also boast exceptional expertise in spur gears in ground designs for prototype and series applications.
One-off production is available for all products.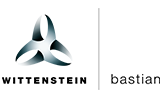 WITTENSTEIN bastian GmbH
Lise-Meitner-Straße 10
70736 Fellbach
Other products of WITTENSTEIN Group
The WITTENSTEIN Group worldwide integrates all key technologies for electromechanical drive systems. Our innovations regularly set new benchmarks. Our portfolio extends from highly precise gearings to piezo drives and integrated electronics.