Internal gearing
A tooth for a tooth – quality from within
Internal gearing by WITTENSTEIN bastian: Whether you need straight, helical or bevel gearing, we can provide you with the full range of high-precision internal gearing. All under one roof, including thermal treatment, and in different production processes and quality levels. Please contact us.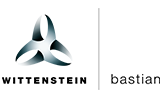 WITTENSTEIN bastian GmbH
Lise-Meitner-Straße 10
70736 Fellbach
Other products of WITTENSTEIN Group
The WITTENSTEIN Group worldwide integrates all key technologies for electromechanical drive systems. Our innovations regularly set new benchmarks. Our portfolio extends from highly precise gearings to piezo drives and integrated electronics.