alpha IQ
Integrierte Sensorlösung
Integrierte Sensorlösung TP+ Getriebe, welche simultan die Kenngrößen Drehmoment und Radialkraft in X- und Y-Richtung erfasst. Ideal für die Überprüfung der Auslegung und komplexen Messaufgaben.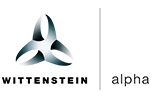 Armin Jud
Trutwisstrasse 1
7214 Grüsch
+41 81 300 10 31
+41 81 300 10 33
Other products of WITTENSTEIN Group
The WITTENSTEIN Group worldwide integrates all key technologies for electromechanical drive systems. Our innovations regularly set new benchmarks. Our portfolio extends from highly precise gearings to piezo drives and integrated electronics.