IDS3010
The IDS3010 is an ultra-compact interferometric displacement measurement sensor equipped with three fiber-based sensor heads. It is perfectly suited for machine integration and compatible with various industrial networks. Due to an integrated webserver, the sensor can be aligned, initialized and (re-)configured remotely at any time.

Unmatched technical specifications top off the system performance: The IDS3010 provides a data acquisition bandwidth of 10MHz at a subatomic resolution of 10-12 m. Despite its exceptional sensitivity, the sensor reaches working distances of up to 5 meters and is capable of tracking target velocities up to 2 m/s.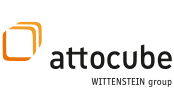 attocube systems AG
Königinstraße 11a
80539 München
+49 89 2877 809-0
+49 89 2877 809-19
Other products of WITTENSTEIN Group
The WITTENSTEIN Group worldwide integrates all key technologies for electromechanical drive systems. Our innovations regularly set new benchmarks. Our portfolio extends from highly precise gearings to piezo drives and integrated electronics.