ECGp5050
The ECGp5050 provides high-resolution Φ-positioning over 10° range. Combined with the ECGt5050, the ECGp5050 forms the lower positioner of a powerful Euler Goniometer with a common center of rotation. It can be combined with a xy-stack of ECS5050 to add two more degrees of freedom to the motion of the sample.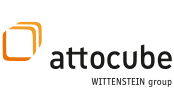 attocube systems AG
Königinstraße 11a
80539 München
+49 89 2877 809-0
+49 89 2877 809-19
Other products of WITTENSTEIN Group
The WITTENSTEIN Group worldwide integrates all key technologies for electromechanical drive systems. Our innovations regularly set new benchmarks. Our portfolio extends from highly precise gearings to piezo drives and integrated electronics.