ECS3030
The ECS3030 has the smallest footprint of attocube's Industrial Line nano drives. It provides high resolution positioning over a travel range of 20 mm. For xyz-positioning, two ECS positioners are mounted on top of each other in perpendicular orientation and a third one is added with a L-bracket. Its high accuracy is achieved with crossed roller bearings.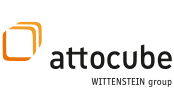 attocube systems AG
Königinstraße 11a
80539 München
+49 89 2877 809-0
+49 89 2877 809-19
Other products of WITTENSTEIN Group
The WITTENSTEIN Group worldwide integrates all key technologies for electromechanical drive systems. Our innovations regularly set new benchmarks. Our portfolio extends from highly precise gearings to piezo drives and integrated electronics.