hexaCUBE190
The hexaCUBE combines six linear closed loop piezo drives with an innovative assembly of highest precision ball joints and linear bearings - enabling true motion in 6D with stunning accuracy and repeatability. With its specialized sample platform design with integrated aperture, the hexaCUBE is perfectly suited for the ultraprecise alignment of optical and mechanical components.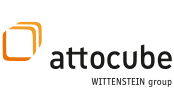 attocube systems AG
Königinstraße 11a
80539 München
+49 89 2877 809-0
+49 89 2877 809-19
Other products of WITTENSTEIN Group
The WITTENSTEIN Group worldwide integrates all key technologies for electromechanical drive systems. Our innovations regularly set new benchmarks. Our portfolio extends from highly precise gearings to piezo drives and integrated electronics.