Special gearheads
The best, not the rest
Perfection through partnerships Our engineers always use the latest state-of-the-art. We believe this is absolutely vital because it is our duty to support you with maximum expertise from the very beginning. This enables seamless implementation of your vision.
Our services under one roof:
Prototypes
Pilot series
Series
Detailed specifications
Technical consulting
Development
Noise optimization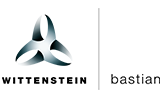 WITTENSTEIN bastian GmbH
Lise-Meitner-Straße 10
70736 Fellbach
Other products of WITTENSTEIN Group
The WITTENSTEIN Group worldwide integrates all key technologies for electromechanical drive systems. Our innovations regularly set new benchmarks. Our portfolio extends from highly precise gearings to piezo drives and integrated electronics.