cyber® dynamic line – Bürstenlose Servomotorenmit integrierter Spindel
dynamich - drehmomentstark - effizient
Die industrietauglichen Servomotoren der cyber® dynamic line mit integrierter Spindel sind die ideale Lösung für dynamische Positioniervorgänge. Als Servomotoren mit integrierter Spindel stellen sie eine energieeffiziente und wartungsfreie Alternative zu Pneumatikzylindern dar. Die Ausführung mit geschlossenem Schubrohr sowie integrierter Linearführung und Verdrehsicherung bildet eine hochkompakte Einheit.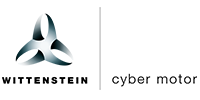 WITTENSTEIN cyber motor
Walter-Wittenstein-Straße 1
97999 Igersheim
Other products of WITTENSTEIN Group
The WITTENSTEIN Group worldwide integrates all key technologies for electromechanical drive systems. Our innovations regularly set new benchmarks. Our portfolio extends from highly precise gearings to piezo drives and integrated electronics.